We deliver integrated multi-modal travel options from the first to the last mile, to move people in more sustainable, tailored, community-driven, and efficient ways.
'You. Smart. Thing.' enables better-connected neighbourhoods and economic prosperity through place-based intelligent mobility.
15-minute cities, 'mobility hubs' and electrification are all part of the government's vision to deliver key services sustainably.
We enhance awareness of sustainable travel options in order for people to access local services across wards and between regions more easily. Our travel assistant platform delivers personalised low-carbon routing options, travel demand management and modal shift by integrating with tourism, businesses, education, healthcare and social care services in an easily adopted but highly tailored way, promoting community-driven sustainable travel to achieve net-zero.
The 'You. Smart. Thing.' travel assistant is an easily deployed low-cost software-as-a-service solution. It enables Local Authorities to offer communities & visitors personalised Covid-conscious active travel options that promote cycling hubs, walking routes, public transport and reduce traffic congestion.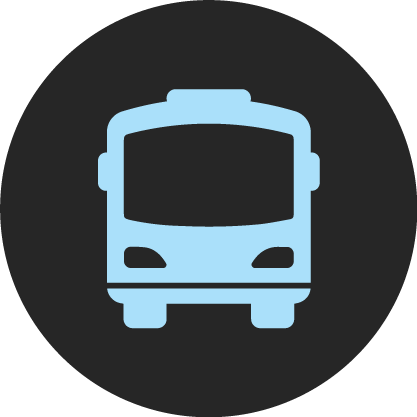 Our collaborative ecosystem, online dashboard and API provide a real-time 'travel forecast' of people's intended travel. This enables you to deliver safe, secure, accessible transit by fostering partnerships between national agencies, neighbouring authorities, transport operators and destinations.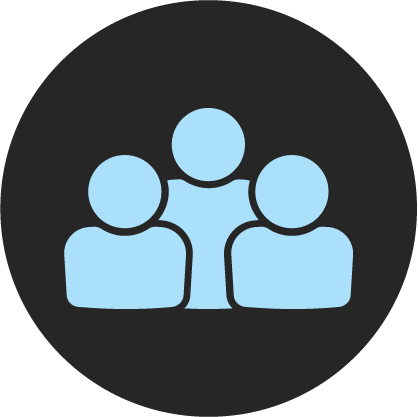 We enable authorities (and large employers) to monitor and influence workforce travel impact and progress towards a 'net zero' environment; drive down travel costs, improve workplace engagement, automate multi-modal travel scheduling and booking with expense reporting & claims.
Our EV Assist project focuses on integrating new charge point operators, enabling the travel assistant platform to deliver highly personalised journey itineraries for electric vehicle users, based on charge point availability and the individual's reason for travel. The EV journey requirements we capture can be securely shared with charge point operators, allowing them to offer reservations, and giving visitors the assurance that they can use an electric vehicle without worrying about range anxiety, no matter how far they're traveling from.
Download our case study:
'Smarter Travel to UK City of Culture Events'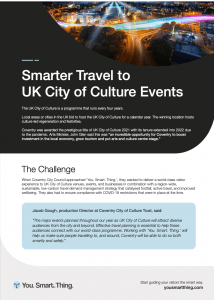 For UK City of Culture venues and events, the travel assistant service was specially configured to guide visitors and communities by using tailored routes that included highly personalised, accessible, and sustainable travel options, travel updates, and exclusive digital content.
"The online travel assistant and travel forecast analysis forms a core part of the 'Tap Travel' solution we deployed for Dumfries and Galloway Council. It showed how they can achieve an emissions reduction of 1,152 CO2 tonnes, alongside cost savings of up to £455,000, across 3000 council employees."
Chad Duggan, MD, BookingLab ('You. Smart. Thing.' Wholsesale Channel Partner)
Example 'Destination Group'
Bespoke configuration for Dumfries and Galloway Council
Single or multi-location 'destination groups' and map pins provide tailored multi-modal travel guidance, promoting relevant information or offers. This example includes Single-Sign-On (SSO) for council employees, enabling them to instantly book recommended travel options.
View More Examples & Case Studies