Joint Development Announced at Mobile World Congress
The UKTI stand at Mobile World Congress in Barcelona has seen the announcement of MyJrny, a new venture between Stratford upon Avon based Enable iD and UK regional public transport body Centro.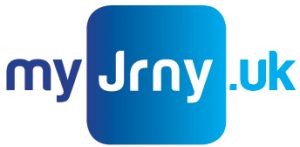 Enable iD and Centro have signed a formal agreement to jointly develop MyJrny, a unique application that allows people to combine personal data with travel network information. The application aims to deliver tailored journey planning information more efficiently than existing mapping services, which typically lack real-time awareness.
Instead of prioritising information based on historic data or commercially-driven offers that ignore personal context, MyJrny prioritises personal data, giving individuals full control of what information they use to plan their journey.
The service will comprise an online dashboard for transport operating companies and commercial partners alongside a consumer focused mobile application, initially for Apple iOS and Android phones.
Enable iD are also creating a software development kit (SDK) that will enable developers to easily plug the MyJrny functionality into third party applications.
Centro is responsible for delivery of public transport in city of Birmingham and the wider West Midlands region. It represents the seven metropolitan councils of the West Midlands: Birmingham, Coventry, Dudley, Sandwell, Solihull, Walsall and Wolverhampton.
A European transport hub spanning a 200mile2 footprint, Greater Birmingham has grown to a population of 3.9m, faster than any other EU metropolitan area. The Globalization and World Cities Research Network rank it as a 'beta−world city'.
Chris Perry, Centro's Head of Smarter Travel explained, "The pilot is an extension of our Centro's 'New Journey' initiative, engaging a whole range of public and private sector bodies in improving the experience of navigating the region."
"We see the secure management of peoples' journey data as a key element in creating truly passenger-centric smart cities."
Chris Thompson co-founder and Chief Strategy Officer of Enable iD, said: "It is brilliant to be working with Centro as one of the first partners in this joint venture."
"Creating MyJrny with a regional public transport delivery body is enabling us to work with a range of transport operating companies and unique data sets, to design a really 'smart' public service."
For more information please visit www.myjrny.uk.