Minimising festival impact on the environment by proactively managing audience travel behaviour
The need to reduce carbon emissions and address climate change has never been greater, and everyone needs to play their part in limiting negative impact on the planet.
It's no secret that climate change is having a severe impact on marine life, the Great Barrier Reef and rainforests; if we don't put things in place to minimise (or even reverse) our impact on the environment, the damage to the climate and wildlife will be irreversible.
Festivals offer a fantastic source of entertainment and gives us the opportunity to spend time with family and friends whilst indulging in our favourite bands and other recreational activities. But it is a well known fact that festivals are high in emissions and harm the environment. With over 75% of carbon emissions from festivals directly linked to visitor travel, it's time for event organisers and managers to take action and do all they can to minimise festival impact on the environment.
One way to do this effectively is by managing the impact of audience travel. Whilst it may seem like managing and even changing the way your visitors travel to and from a festival is beyond your control, getting the foundations in place has been made simple thanks to the innovative 'You. Smart. Thing.' (YST) online travel assistant service.
Here are five ways 'You. Smart. Thing.' can help you monitor and proactively manage the impact of festival audience travel behaviour.
1. Look at your visitors' transport
Prior to the coronavirus pandemic, in 2019 music festival visitors in the UK hit just under 34 million, with people travelling from all over the world to attend. Even with people travelling in groups, the carbon footprint from this was significant.
Organisers need to know the methods of transport people are using to get to and from the festival. The revolutionary 'You. Smart. Thing.' platform helps event managers improve visitor experience from the point of consideration to the moment a visitor leaves the front door, delivering tailored travel and venue accessibility through to returning home safely and sustainably.
The travel assistant service is easily integrated across all visitor touch points, guiding people to events whilst avoiding issues such as road congestion or overcrowding on trains or buses.
Using visitor travel preferences, whether it's car, train, bus, cycling, a combination or even just walking, the travel assistant platform pulls in real time information from across the transport network and returns a tailored route to and from the festival. It also takes other factors into account such as:
busy travel periods
other events
venue access points
and performance times
This gives visitors the best overall festival experience possible.
Free guide: 13 sustainable travel tips to reduce your festival's carbon footprint
Exploring the impact that festival travel has on the environment and how event organisers can help their visitors choose sustainable travel.
As the world around us changes and we learn more about carbon emissions, the team at 'You. Smart. Thing.' (YST) aims to continually adapt and change this guide. We work with event and festival organisations so that they can implement solutions that help audiences make smarter and more responsible travel decisions.
Get my copy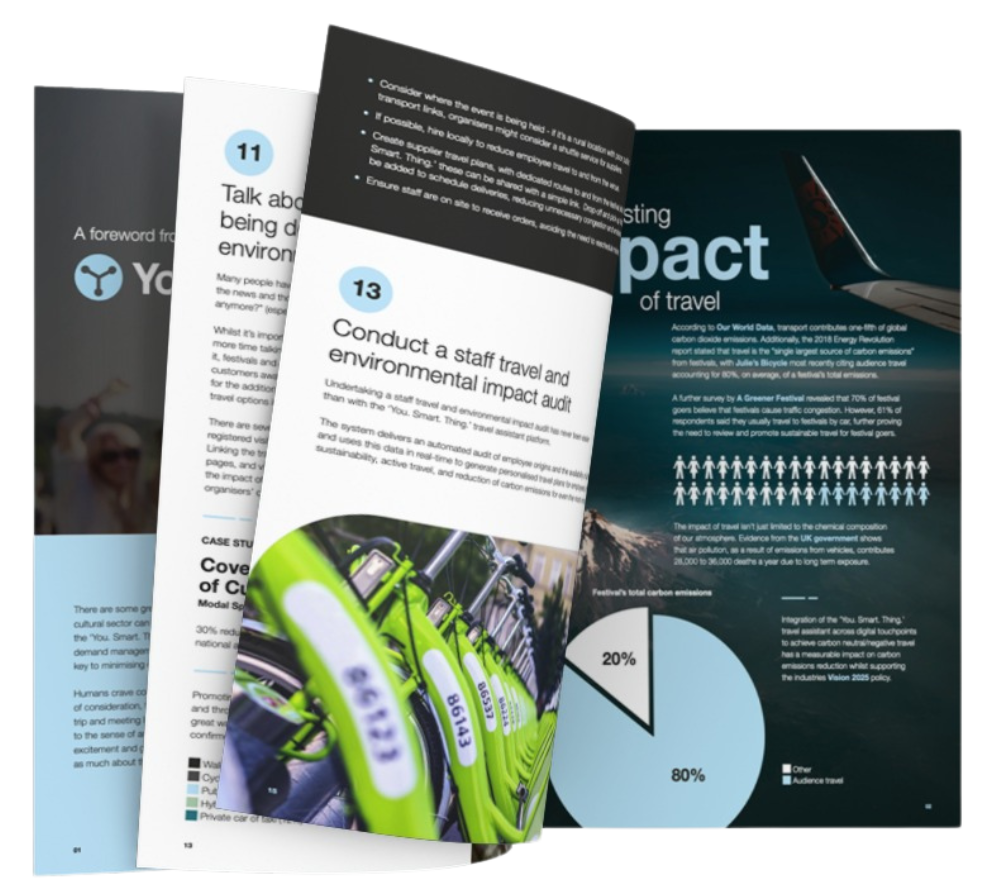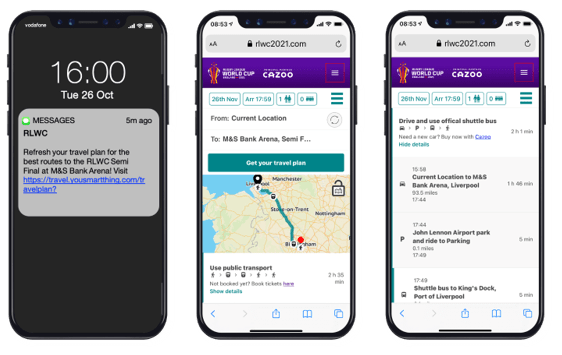 2. Deploy visitor-flow and experience management
Organisers can take visitor flow and experience management to the next level by incorporating the YST travel assistant. Creating a seamless visitor experience should be the goal of any event organiser or manager. Without it, you risk compromising brand reputation and returning visitors, ultimately impacting profitability.
Visitor flow and experience management give crucial insight into audience satisfaction, and can massively improve the experience of festival goers across the globe. The 'You. Smart. Thing.' travel assistant is like having your own version of Google maps, except you define the best routes, and capture the data! In addition to ensuring best-practice in respect of the environmental sustainability of audience travel, the platform is easily configured to reduce overcrowding or increase dwell-time, and improve safety through crowd-sourced network intelligence and route optimisation.
The system enables festivals to provide visitors, bands and stage crews with personalised travel plans that incorporate sustainability, active travel, and reduction of carbon emissions, positively influencing and promoting sustainable travel to and from even the most remote festival sites.
'You. Smart. Thing.' is easily embedded and integrated into web, mobile, social media and CRM platforms. It can send a personalised travel plan via SMS, email or preferred social media channel, guaranteeing the last engagement with visitors before their visit.
This enhances visitor-flow and experience management by effectively nudging audience behaviour towards greener transport modes, incentivising sustainable and responsible travel choices.
3. Use data to improve visitor transport
What makes 'You. Smart. Thing.' such an invaluable tool is the wealth of (GDPR compliant) visitor data it generates. This information gives the ability to capture and securely share data on patronage, capacity, historic, current and predicted location – we call it 'the travel forecast', and to use this information to make decisions in real-time.
By offering actionable guidance to optimise travel based on currently available services and visitors' specific journey requirements, and capturing the data, organisations can make informed decisions to achieve operational and commercially driven objectives. Festivals can leverage the information captured to create additional revenue streams by making transport advice and affiliated services an integrated part of their proposition.
4. Overcome the barriers to visitor travel behaviour
Before capturing information about visitors' travel habits, organisers should consider the potential barriers customers face when it comes to getting to events. This helps measure the difference that deploying personalised travel advice will make.
A great way to find this out prior to deploying a travel demand management strategy, is by surveying existing visitor databases and identifying their travel habits and preconceptions surrounding areas such as public transport.
Of course, not every event caters to the same target audience, so it's important to gain a holistic view of what the barriers are. YST can be deployed by destination, venue, event and performance, enabling organisers to compare and continuously improve advice and recommendations based on the audience travel forecast.
This is something the UK City of Culture understood when they worked with YST to promote active travel for the event, "'The Walk – Through Coventry'". We were able to understand audience behaviours and promoted cycling hubs on recommended routes, which proved the catalyst for incentivising behaviour change. As a result, 55% of people opted for active travel modes, reducing the number of cars on the road.
5. …And offer travel incentives for festival goers
One common example of a barrier to making a sustainable travel choice, that we see time and time again, is the perceived cost and inconvenience of public transport in comparison to the ease and split costs of driving to and from a festival. When organisers understand the barriers to travel, they can then offer compelling solutions to help visitors overcome them.
When festivals have the data they need from 'You. Smart. Thing.', they can work towards breaking down these barriers with value added services and incentives. When coming up with these incentives, our Customer Success Team can help festivals partner with travel companies and make this commercially viable.
However, one incentive may work for one type of festival, but may not appeal to another genre, so it's important to start capturing audience data whilst brainstorming new ideas.
Previous research has shown that some festival goers are more open to sustainable travel methods such as carsharing or buses in return for vouchers for drinks, meals, music, VIP or fast track access. Many events also offer incentives to use park and ride services for the final few miles of the journey to the festival, in order to reduce congestion in the local area. Bespoke last mile routing is a key feature of the 'You. Smart. Thing.' travel assistant
Don't get stuck on the A-roads, save time, save money, save the planet… Use public transport and arrive in style on the VIP festival shuttle-bus!
Guide people to your festival the smart way
It is up to everyone to do their part and reduce carbon emissions across the globe. Individual behaviour has a positive impact but by looking at how to reduce the environmental impact of visitor travel, festivals are not only doing their part but harnessing the collective impact of their entire audience!
Speak to 'You. Smart. Thing.' today to discuss how we can help event organisers offer the best environmentally sustainable visitor experience possible.