'Smart-train' Passenger Counting & Real-time Information System Successfully Piloted by Chiltern Railways
"It's been fantastic to be able to engage train staff and passengers in testing a system that reconciles real-time information from individual carriages with timetabled train services." 
Chris Thompson, Chief Strategy Officer, Enable iD
MyJrny is an Intelligent Mobility research and development programme that responds to the need for better-integrated transport systems in order to serve growing populations. The programme comprises multiple stakeholders, including Chiltern Railways (part of Arriva UK Trains), Transport for London, Transport for West Midlands and technology developer, Enable International. The Smart-train passenger counting and real-time information system, co-funded by RSSB, was the first of four Department for Transport backed initiatives within the MyJrny programme.
Smart-train provides the rail industry with accurate real-time Automatic Passenger Counting (APC) and vehicle status information, delivering a range of transformative customer experience, operational and commercial benefits:
Exposes real-time carriage occupancy information of connected trains
Helps passengers find available seats, whilst waiting to board or in-transit
Streamlines people-flow and improves safety at the platform-train interface
Reduces dwell-time time to support right time performance
Exposes accurate train consist data (order of carriages) for business intelligence
Provides historic occupancy data for capacity management and service planning
Enables real-time occupancy information to be shared with channel partners
Provides the source information for dynamic pricing and customer incentives
Technical Approach
The over-arching technical approach for the Smart-train system was to create a combined source of real-time carriage status information, which could be integrated with 3rd party systems via an Application Programming Interface (API). The following diagram show the technical architecture, based on MK3 Slivertrain buffet car.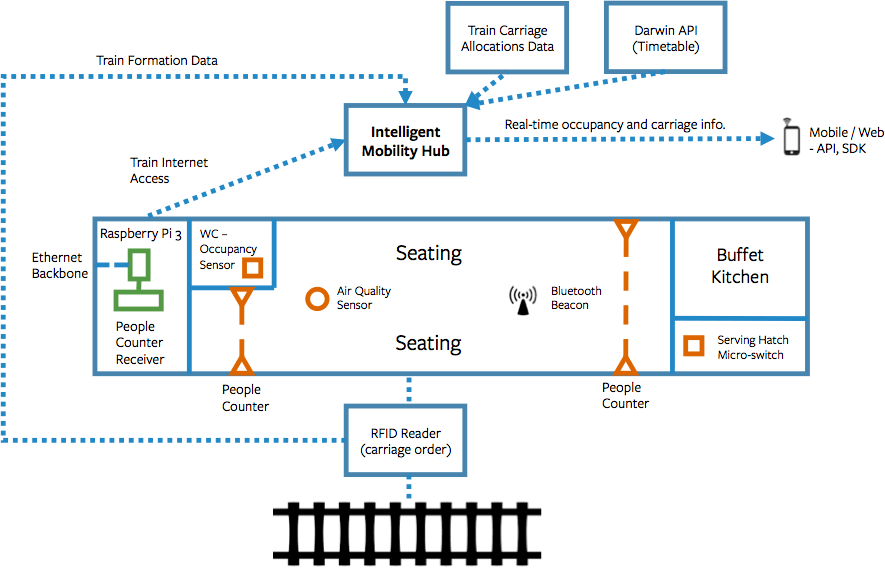 Operators can use the API to integrate with and exchange data between on-board sensors, resource planning and customer relationship management tools, websites and mobile apps. 'API keys' ensure that devices accessing the system are securely authenticated.
Proof-of-Concept Demonstration & Customer Survey
Enable worked with Chiltern Railways to install sensor technology on 24 train carriages alongside the innovative Smart-train architecture. Over an 8-week period customers and industry representatives accessed this information via a demonstration website and mobile app:
94% of respondents accessed Smart-train information whist on the platform or on the train. They were a balanced mix of business and leisure passengers.
90% of respondents said having real-time access to seat availability influenced where they stood on the platform, and helped them get a seat on the train
86% of respondents said access to seat availability information influenced which carriage or train they boarded, and 60% said the same when asked about the addition of temperature information.
Next Steps & Further Information
The Smart-train system is now available for wider commercial adoption, alongside a range of adaptable passenger counting technologies.
A link to the 'MyJrny Smart-Train RSSB Report' in PDF format, which includes the Smart-train API technical specification, use-case analysis and full customer experience survey can be accessed below: