Guiding New Residents, The Smart Way
Essex County Council has partnered with 'You. Smart. Thing.' (YST) to help residents of new housing developments make active, sustainable, and cost-effective travel choices. The YST platform will combine residents' journey preferences with bespoke routing and multi-modal transport data, giving them an accessible, online travel assistant service with personalised travel plans and real-time updates.
Our Brief
Essex County Council wanted to be able to digitally signpost and model the local area impact of new housing developments. The ability to increase active and sustainable travel through the promotion of suggested walking and cycling routes alongside integrated door-to-door multi-modal journey options was a key requirement. Optimised routing within Essex also needed to offer residents the opportunity to plan journeys directly to and from their new home, with the most sustainable option first.
A Localised Service
Working in partnership with transport network stakeholders, 'You. Smart. Thing.' (YST) deployed its web-based travel demand management platform and public-facing travel assistant service. The innovative service is configured to advise people on regional travel throughout new housing developments within Essex, at the planning stage, throughout the build, and as new communities evolve. 
Utilising YST's configurable routing technology, administrators can create a transport mode hierarchy, ensuring residents always get to see the most sustainable routes first when planning their trip. It offers bespoke routes, with full details of each step of the planned trip for all local journeys, including the ability to issue an email or SMS alerting residents of transport network events that may affect their trip, e.g., bus and rail timetable changes, planned roadworks or diversions.
Helen Akpabio, Active Travel Manager at Essex County Council, explained: "I am delighted that we have the opportunity to pilot this bespoke personalised journey planning tool as an accompaniment to our residential travel information offering for residents of new housing developments. We know that providing the right information at times of change, can lead to new habits being formed, so with the introduction of the 'You. Smart. Thing.' travel assistant, we hope this will encourage more residents to opt for walking, cycling and using public transport for their commuting and leisure journeys. Which is all part of our vision to make Essex a safer, greener, healthier county."
"We are very excited to be working with Essex County Council to capture, analyse and influence travel demand to maximise resident experience within their new developments." said YST Channel Partnerships Director, Simon Grieve. "The platform will proactively encourage sustainable travel, increasing walking, cycling and use of public transport."
Signposting & Integrating New Developments
Promotional collateral including QR codes has been created for each development to promote the travel assistant service. These QR codes will be displayed and given out to home owners once they have moved in to their new homes across Essex.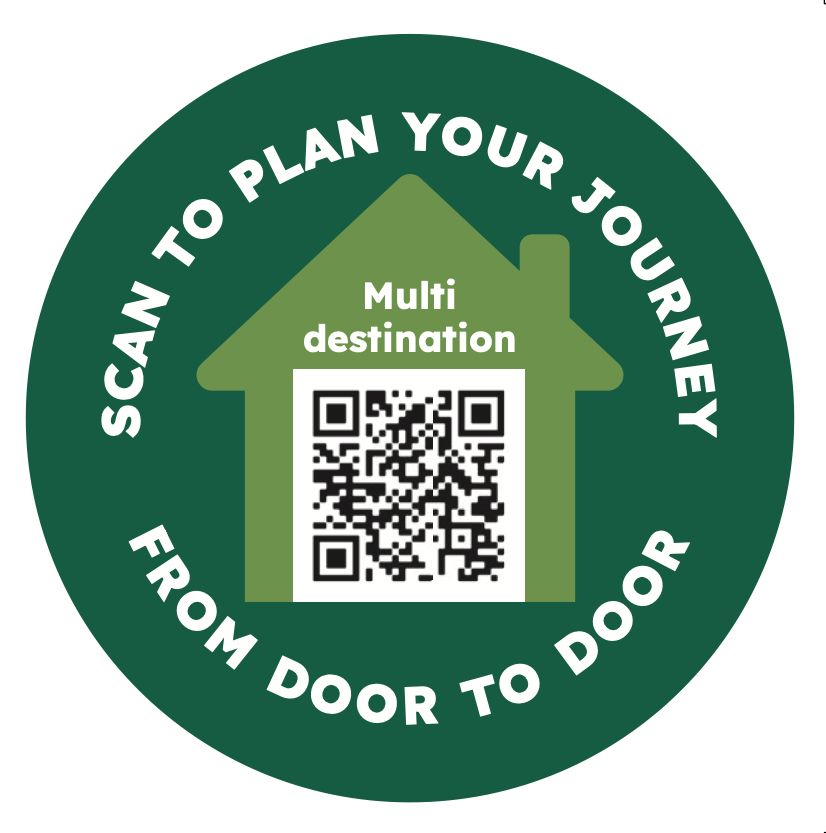 The innovative service not only gives residents greater awareness of their new environment but also enables them to gain insight into what the lived experience can deliver in terms of connectivity to services. It includes digital overlays of site plans on the mapped area of interest, so that people can easily plan travel within, between and around new developments (often before they exist on other mapping and navigation services) whilst always being aware of proximity to the site and its surroundings.
The challenge of maintaining consistency of public transport service information, combined with a lack of information about travel demand, the availability, capacity and resourcing of transport services, is common to all markets.
In the UK the YST Travel Assistant addresses consistency of information through integration with the 'Traveline' transport information partnership between national agencies (Highways England and Rail Delivery Group), local authorities, transport operators and passenger groups, Transport for London's open journey planner API, and direct feeds for specific services such as electric vehicle charge points. The bespoke Essex County Council deployment includes links to local services, such as cycle training and Park & Ride options.
This hybrid transport data sources model ensures accuracy and robustness of information whilst enabling transport operator timetables to be manually overridden on a hyper-local basis. The platform is also able to ingest and overlay telematics vehicle tracking data where required.
Timeline & Scale of Deployment
Over a 12-month period up to 30 travel assistant deployments for new housing developments, including information not available on other travel planning services, will be made available to residents. Each deployment will include navigable map pins, bespoke routing, housing development map overlays and a QR code for ease of access and offline promotion. All residents will be able to generate a personalised travel plan, for frequent and infrequent or one-off trips, that include regular travel updates. Built to international Web Content Accessibility Guideline standards the platform is compliant with the UK Governments Digital Service Standard, GDPR and UK privacy as defined by the Information Commissioner's Office.
The 'You. Smart. Thing.' platform includes real-time monitoring of the travel assistant tool, enabling it to be continuously updated to meet the deployments' overarching objective of increasing more active and sustainable journeys, reducing congestion and improving the environment.
Hashtags: #Community #Travel #Housing
About 'You. Smart. Thing.'
'You. Smart. Thing.' was developed in association with the Department for Transport and is currently being rolled out across the UK, helping local authorities, designations, venues and events of deliver travel demand management.
For information about 'You. Smart. Thing.' please visit https://yousmartthing.com/
About Essex County Council
Essex County Council is the county council that governs the non-metropolitan county of Essex in England.
For information please visit: https://www.essex.gov.uk