How 'You. Smart. Thing.' is Delivering Rail Service Demand Forecasting for Event-based Travel
'You. Smart. Thing.' (YST) has won a fully funded contract as part of the Department for Transport's First of a Kind 2022 competition, run in partnership with Innovate UK. The competition focused on new concepts that will transform rail travel for passengers and help decarbonise the transport network.
YST's first of a kind solution, named EventGo, aims to accurately predict how large visitor events impact demand for specific railway services, generating advance insight on rail capacity, and enhancing the ability of Train Operating Company (TOC) planning teams to optimally plan and deliver railway timetables and services. Data-enabled decision-making is expected to improve overall TOC operational performance, as demand is more precisely matched with supply to realise new cost efficiencies, improve yield, and deliver enhanced customer experiences. The project outcomes address the competition's "plan resilience and recoverability" theme.
Managing Rail Demand for Major Events
Large visitor events create extreme demand peaks within the railway network. Though such events are often scheduled months in advance, accurately predicting how this demand is likely to impact a specific scheduled railway service is notoriously complex due to the lack of advance data about visitors' travel plans. In leu, TOCs often rely on best guess estimations. As the 2022 UEFA Champions League finals in Pairs demonstrated, underestimating visitor travel can have severe consequences for an organisation's reputation, and visitor safety.
Project Scope & Value
A mature EventGo prototype solution is to be deployed by UK TOC planning teams to predict how a series of sporting fixtures between January and March 2023 in the Yorkshire region are likely to impact time-tabled railway services. During this period, partners will investigate how advanced insight generated by EventGo can be exploited by planners to make intelligent adjustments to scheduled services, e.g., adding capacity to specific services to match high demand, to ensure optimal asset utilisation and deliver the highest level of customer experience.
Demonstration in a live railway environment allows partners to both verify the accuracy of EventGo rail travel demand prediction, and to evidence the business value such intelligence can have on TOC operations teams. In addition, accrued results will facilitate product approval procedures and raise the visibility of the novel solution, initially in the UK market.
Transport Secretary, Mark Harper said:
The UK has a long history of leading the way in railway innovation and the First of a Kind competition is getting the great brains of today to create the trains of tomorrow.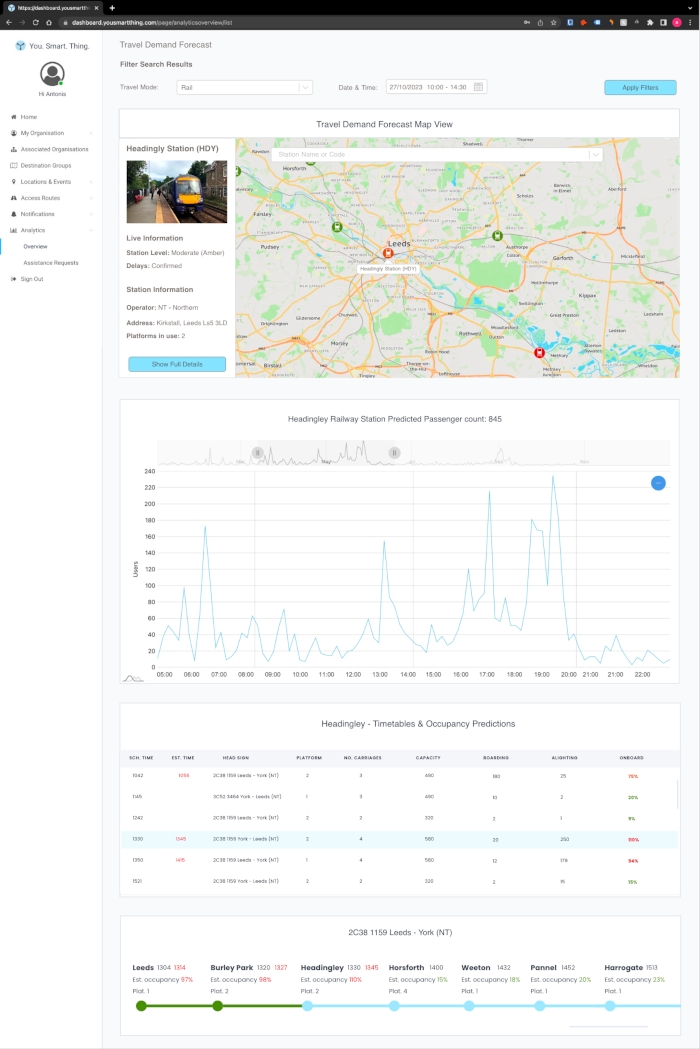 The project is led by 'You. Smart. Thing.'. Northern Trains will serve as the demonstration partner, providing a real-world rail environment testbed for validating the solution's technical performance. The project is supported by the Leeds Rhinos Rugby League Club who will work closely with YST to capture travel itineraries for visitors attending home games hosted at the Headingley Stadium in Leeds. Project management is led by In The Round Ltd, an experienced London-based transport for events and customer experience consultancy. ITR will lead the design of a playbook, which sets out how TOCs can operationalise EventGo-generated advanced insights to optimise the delivery of railway services. Contributing to the project as associate partners in an advisory capacity are West Yorkshire Combined Authority ("WYCA") and Leeds City Council, and Avanti West Coast, also a train operator.
Hashtags: #Rail #Events #Sustainability
About 'You. Smart. Thing.'
The 'You. Smart. Thing.' travel assistant interface plugs into websites or smartphone apps, to offer pre-configured transport modes and routes that help manage people-flow and minimise overcrowding. For larger venues it can also integrate with ticketing and CRM systems and booking flows, streamlining box office management and customer engagement.
Curating their trip minimises visitors' carbon footprint whilst enhancing their overall experience. Visitors receive email or SMS updates in the event of delays or disruption, and operational teams get granular GDPR-compliant information about who is coming, where from and how, creating a communication tool and valuable dataset for better informed decisions.
'You. Smart. Thing.' was developed in association with the Department for Transport and is currently being rolled out across the UK, helping to rebuild audiences and a thriving cultural economy by actively promoting sustainable travel to venues and events.
For information about 'You. Smart. Thing.' please visit https://yousmartthing.com/
About First of a Kind in Rail (FOAK)
FOAK has been funded by DfT and managed by Innovate UK, delivered in partnership with Innovate UK KTN, since 2017/18 to help overcome barriers that can make it difficult for new entrants to bring novel technologies to the rail market. Funding is provided through competitions, with successful bidders partnering with rail industry bodies to develop and test products that can then be offered for sale.
For information about visit: https://www.gov.uk/government/news/cleaner-greener-self-charging-trains-of-tomorrow-to-revolutionise-british-rail-travel