Travelling sustainably towards equality, diversity and inclusion
As part of our UK City of Culture travel assistant deployment for Coventry, 'You. Smart. Thing.' proudly supported Little Amal, a young refugee, who has embarked on a remarkable journey!
"The Walk, created by Good Chance in collaboration with Handspring Puppet Company is a travelling festival of art and hope in support of refugees. It centres on the storey of 9-year old Little Amal, as she migrates from the Syria-Turkey border all the way to the UK. Being in Coventry, a city of peace, reconciliation and sanctuary, 'The Walk – Through Coventry', helps Amal to imagine the possibility of a brighter future." Coventry UK City of Culture Trust
The 'You. Smart. Thing.' travel assistant service was specially configured to guide City of Culture visitors and communities as they took to the streets to welcome Little Amal during her exploration of Coventry city centre. Festival participants planned their trip to meet Amal via the most sustainable modes and routes, and became part of this extraordinary artistic response to today's world of unprecedented change, hope and human discovery.
Coventry is dedicated to providing a legacy of accessibility and sustainability, in what is already one of Europe's most culturally diverse and inclusive communities, after its tenure as the UK City of Culture. Deployment of the 'You. Smart. Thing.' travel assistant service is central to this mission, helping people travel the smart way with personalised travel plans, tailored routes and a focus on creating a low-carbon environment for people to live, work, play in and visit.
The promotion of walking and cycling options and the introduction of bike hire hubs on recommended routes has proved the catalyst for incentivising behaviour change. The data – 55% of people opting for active travel modes – does need to be taken in context. City of Culture audiences are more local than national and therefore less likely to drive. The shift, however, from the national average for cultural events, which see the majority of audiences drive or use public transport, is a significant step-change that benefits us all.
As we continue to stage more global events, and visitors such as Little Amal, production crews and increasingly diverse audiences integrate with host communities, in order to remain attractive it is critical that destinations and venues invest in the freedoms that we have come to take for granted; fresh air and the ability to travel
 without barriers.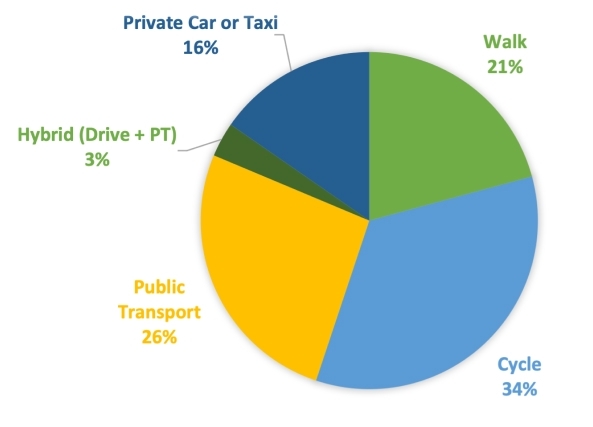 Editors Notes:
For further information, interview requests and images, please contact hello@yousmartthing.com
About Coventry UK City of Culture 2021
Coventry UK City of Culture 2021 ran from May 2021, running for 12 months. The 365-day Coventry 2021 cultural programme reflected Coventry as a diverse, modern city, demonstrating that culture is a force that changes lives. Coventry is known internationally as a city of welcome, a city of activists and pioneers, peace and reconciliation, innovation and invention, and now a City of Culture.
Coventry is the city where movement began, from innovation in the transport industry to a history of activism, it has moved people for centuries. For over a year, Coventry celebrated with events, music, dance, theatre, and large-scale spectacle. As well as these big celebrations, it showed its unexpected side, with more intimate experiences and ways to get involved in every neighbourhood. And it wasn't just Coventry. This epic celebration also witnessed the entire region getting involved and benefitting from the opportunities that being City of Culture brings.
About You Smart Thing
Project partner, 'You. Smart. Thing.', is an online travel assistant service that guides people to destinations the smart way; personalised, accessible and sustainable.