A goodwill gesture to the UK's littered coastlines
Throughout August, Warwickshire-based artist

Rob Hamp is

 travelling to some of the UK

'

s busiest coastal locations to collect litter and sand to inform a new architectural artwork.
The Art Can Be Rubbish Too project aims to encourage recycling, civic pride, and asks us to look again at our own relationship to waste. The work will be launched at Coventry Biennial 2021 this October and is a co-commission between Coventry Biennial and UK City of Culture 2021 / Green Futures.
Image by Jill Reidy, Red Snapper Photography
Rob is joined on these trips by youth groups from Coventry and Warwickshire – arguably the most land-locked area of the UK, as well as local groups from the areas they visit. The young people are supportiung the litter-picking process, working creatively with Rob and engaging with people locally, opening up debate and conversation about waste. A bin from Coventry is also travelling with the team, allowing people to dispose of their waste in the areas he visits. It is a gesture of goodwill from these visiting ambassadors from Warwickshire to the wider country – to help with a problem that affects us all. It also aims to act as a call to action for people across the UK to work together, reduce waste and create positive environmental change. He says:
"

This is Coventry

'

s year to present itself beyond any gallery and there seems no better way than lending a hand across the country. We all have problems, but we

'

re offering to take on a little of yours too. A gesture,

'

litterally

'

."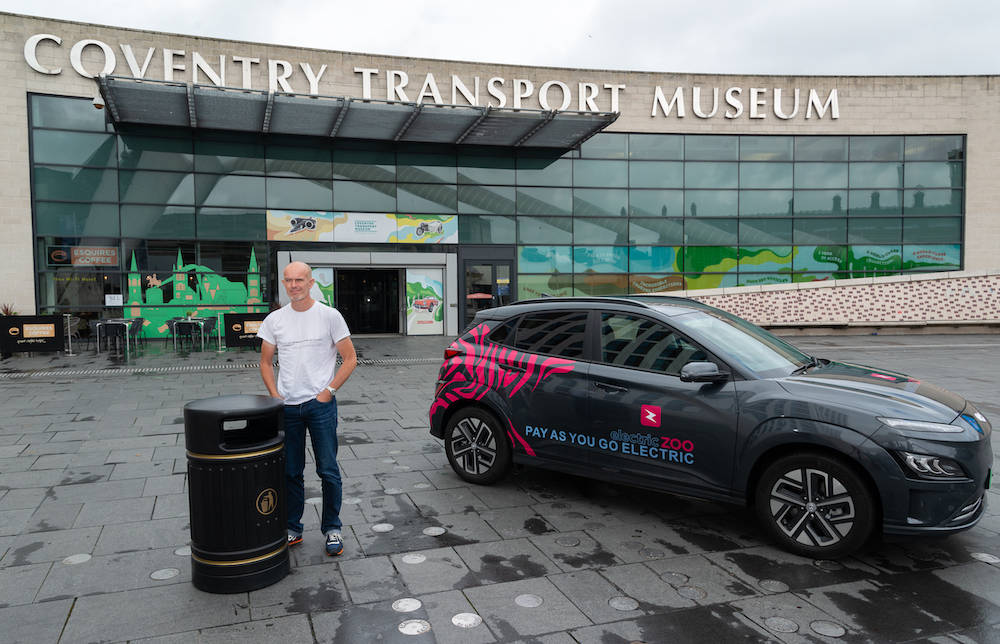 Rob Hamp outside Coventry Transport Museum – John Whitmore
Anna Di Donato, Head of Customer Success at YST, said:
"As the travel management partner for Coventry UK City of Culture, we are thrilled to be supporting Rob Hamp, Coventry Biennial and Electric Zoo on this project. Around 25% of pollution from the world's carbon emissions is transport-related, and the majority of that is from people using combustion engine vehicles. Enabling people to track Rob's environmental odyssey and join him in transforming the rubbish littered on UK beaches into art is a brilliant way to showcase our service, whilst shining a creative spotlight on the climate emergency."
Once the litter is back in Coventry, Rob will host collaborative and performative sorting sessions, where the waste materials are sifted through, documented, elevated into temporary micro-artworks before being responsibly disposed of. The final artwork, informed by his travels, conversations and experiences will be presented at the Old Grammar School in Coventry from October 2021 to January 2022.
Editors Notes:
Art Can be Rubbish Too
is a co-commission between Coventry Biennial and UK City of Culture 2021 / Green Futures.
Coventry Biennial is a festival of contemporary art that takes place every 2 years across Coventry and Warwickshire. The third Biennial takes place from 8th October 2021 – 23rd January 2020.
The Biennial supports artists and community groups to respond to the world(s) around them and encourages collaboration, partnerships and other kinds of informal support between artists, organisations and citizens. We believe that art can change lives.       
About Coventry UK City of Culture 2021
Coventry UK City of Culture 2021 commences from May 2021, running for 12 months. The 365-day Coventry 2021 cultural programme will reflect Coventry as a diverse, modern city, demonstrating that culture is a force that changes lives. Coventry is known internationally as a city of welcome, a city of activists and pioneers, peace and reconciliation, innovation and invention, and now a City of Culture.                       
Coventry is the city where movement began, from innovation in the transport industry to a history of activism, it has moved people for centuries. For a whole year, Coventry will celebrate with events, music, dance, theatre, and large-scale spectacle. As well as these big celebrations, it will show its unexpected side, with more intimate experiences and ways to get involved in every neighbourhood. And it
'
s not just Coventry. This epic celebration will also witness the entire region getting involved and benefitting from the opportunities that being City of Culture brings.
https://coventry2021.co.uk/
About Electric Zoo
Based in the West Midlands, Electric Zoo offer electric car Pay As You Go subscription. The team have a wealth of experience in the automotive industry and want to make switching to electric as easy and simple as possible. They understand that there is a lot to consider when making the switch, so get in touch with one of their EVangelists to get started on the road to electric today.
www.electriczoo.co.uk
About You Smart Thing
Project partner, 'You. Smart. Thing.', is an online travel assistant service that guides people to destinations the smart way; personalised, accessible and sustainable. https://yousmartthing.com/uk/